The benefit of orthodontics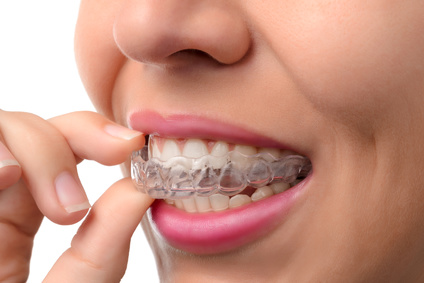 When most people think of orthodontics, an image of a teenager with metal braces may come to mind. While we recommend that patients actually have their first orthodontic appointment by age 7, children, teenagers and adults alike can be successfully treatment with orthodontics. Orthodontics can have many benefits for patients of all ages.
First of all, orthodontics can correct alignment issues such as crowded teeth, overbites or underbites. This will not only improve the appearance of the patient's smile, but may also make eating and speaking easier. Misaligned teeth can lead to other issues later in life, such as TMJ pain.
For patients who find traditional metal bracket braces to be too cumbersome or uncomfortable, the Invisalign System may be an option. The Invisalign system offers the results of braces, without wearing braces.With Invisalign, a series of custom-molded clear trays gradually guide teeth into proper alignment. Invisalign trays are virtually invisible when worn, and are removable for mealtimes and cleaning. It's a discreet, convenient, modern alternative to traditional metal braces that are attached for months or years.
Invisalign can be use for both adults and children. For teenagers, Invisalign Teen is available. Since the Invisalign trays are removable, they will not interfere with eating or cleaning the teeth like metal bracket braces would. However, since the trays do need to be worn for about 23 hours a day, parents may want to consider the maturity level of their child before choosing Invisalign. Children and teens should be given instructions on how long to wear their trays and how to properly care for them for maximum benefit.
Treatment with Invisalign generally takes from 6- 18 months, and cost is comparable to that of most other cosmetic orthodontic treatments. If you are considering Invisalign or metal bracket braces, our friendly dentists at Kerrisdale Dental Clinic can offer you the best treatment plan for your lifestyle and budget.